The Library History Buff
Promoting the appreciation, enjoyment, and preservation of library history
---
Library Cards
The library cards below have a personal connection. To see some vintage library cards in my collection CLICK HERE.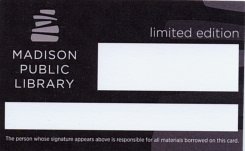 Attendees at the gala celebration of the new Central Library of the Madison (WI) Public Library on September 7, 2013 received this limited edition library card. I didn't activate mine since I had one from the Middleton Public Library (see below).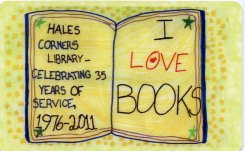 A library card from the Hales Corners Public Library in Hales Corners, WI. They celebrated their 35th anniversary in January, 2001. The library held a contest among young people to design the library card.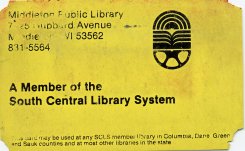 This bedraggled, well used library card is for my local public library, the Middleton Public Library in Wisconsin, which is a member of the South Central Library System.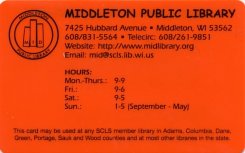 The replacement for the Middleton Public Library card above.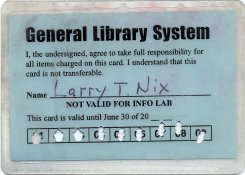 This is my library card to the University of Wisconsin General Library System. I used to get it for free as a state employee, but now as a retiree I pay $20 a year. For this I get access to a collection of books and other materials that numbers in the millions. I'll have to get a new card in July. This one is all punched out.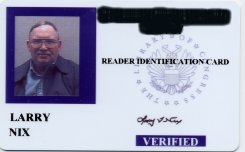 My card for the Library of Congress. It's been a few years since I used it to do some research in the Rare Book Library. What a treat.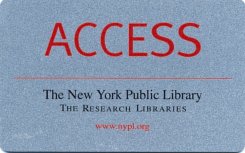 My access card to the New York Public Library on 42nd Street.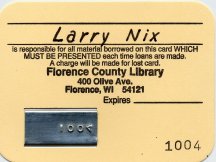 This is an honorary card presented to me back in the early 90s when Florence County became the last county in Wisconsin to get county-wide access to free public library service and to become part of one of Wisconsin's regional library systems. I even got to ride in a convertible in a local parade.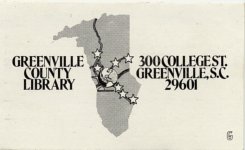 Front of a library card for the public library that I served as director of from 1974 to 1980.
Links:
The Great Library Card Collection (Michael Sauers)
http://www.travelinlibrarian.info/libcards/
This site created and maintained by Larry T. Nix
Send comments or questions to nix@libraryhistorybuff.org
Last updated: 11-10-12 © 2005-2012 Larry T. Nix
Also check out the Library History Buff Blog.