The Library History Buff
Promoting the appreciation, enjoyment, and preservation of library history
---
Biographies of Library People of the World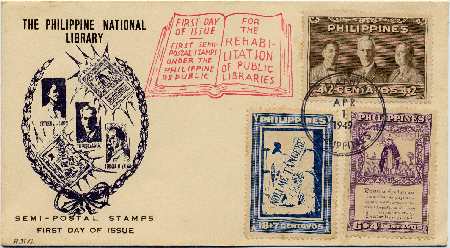 The stamp in the upper right corner of this First Day Cover honors three former directors of the Philippine National Library.
Disclaimer: The Web sites below vary in quality. If you would like to suggest additional or alternative Web sites, please contact me at nix@libraryhistorybuff.org .
See Also: Biographies of American Library People
Compilations
Women in Canadian Librarianship
http://www.collectionscanada.ca/women/002026-250-e.html
Dictionary of Italian librarians edited by S. Butto'
http://www.aib.it/aib/editoria/dbbi20/dbbi20.htm
Sources for the history of Italian librarians compiled by Alberto Petrucciani
http://www.aib.it/aib/stor/stor.htm
World Library People on Postage Stamps
http://www.libraryhistorybuff.org/bibliophilately-people-world.htm
Wiki version of W. A. Munford's Who was Who in British Librarianship 1800-1985
http://newmunford.wikispaces.com/
Note: Around 2005 Peter Chapman initiated a project called the Professional Achievements Register in Great Britain to collect biographical information on library professionals in Great Britain for the Chartered Institute for Library & Information Professionals. This project seems to have disappeared. Does anyone know what happened to this project?
Individuals
Thomas Bray
http://satucket.com/lectionary/Thomas_Bray.htm
Andrew Carnegie
http://www.carnegie.org/sub/about/biography.html
http://andrewcarnegie.tripod.com/
http://www.scotcities.com/carnegie/
Anthony Panizzi
http://en.wikipedia.org/wiki/Antonio_Panizzi
Shiyali Ramamrita Ranganathan
http://w3.uniroma1.it/vrd/mathematics/i-ranganathan.html
http://www.boxesandarrows.com/view/ranganathan_for_ias
Margaret Windeyer, 1866-1939 (Australian librarian)
http://www.adb.online.anu.edu.au/biogs/A120744b.htm
This site created and maintained by Larry T. Nix
Send comments or questions to nix@libraryhistorybuff.org
Last updated: 12-08-08 © 2005-2008 Larry T. Nix
Also check out the Library History Buff Blog.